In 2014, I decided to learn how to crochet and dishcloths were my first projects. Before long, I was making my own Free crochet dishcloth patterns.
However, this was not the first time I have tried to crochet. The first time I picked put a crochet hook was when I was a little girl.
My great grandmother tried to show me how to crochet. I never got past the chain.
So I had a bit of a challenge learning on my own. Thank goodness for the internet and instructional videos.
I enjoy creating dishcloth patterns because they are projects that I can quickly complete while the boys are taking their nap.
Items I use when crocheting dishcloths:
Boye Crochet Hooks – My great-grandmother had these when she taught me how to crochet. Of course, when I decided to start crocheting again, I chose to use the same crochet hooks.
However, I did grow out of my Boye hooks and I have since migrated to Clover Soft Touch Hooks As an affiliate, I earn from qualifying purchases. . These hooks are wonderful!
Clover Soft Touch Crochet Hooks My favorite hooks to use when crocheting. This crochet hook set comes with hook sizes C, D, E, F, G, H, I, and J.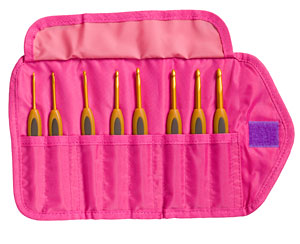 As an affiliate, I earn from qualifying purchases. Last Updated: 06/06/2018
Should you need help with converting hook sizes, check out this crochet hook sizing chart.
Cotton Yarn – For dishcloths and dish towels, I always use 100% cotton yarn. My favorite cotton yarns to use are Sugar and Cream.
Yarn Needles – I like to use metal yarn needles when I weave the ends in once I am done with the project.
Stitch Markers – If you need help keeping track, stitch markers are the perfect thing! Perfect if you need help figuring out where to place your stitches when adding an edging.
Scissors – Sharp scissors are a must when working with any yarn. It is important to get a nice clean cut.
Digital Row Counter – I have the one by Susan Bates and I LOVE it!
Digital Crochet Row Counter Perfect digital row counter that doesn't disrupt your crocheting.
As an Amazon Associate, I earn from qualifying purchases. Last Updated: 06/04/2018
Free Crochet dishcloth patterns!
Crochet Dishcloth Patterns:
Textured Half-Double Crochet Dishcloth
Primrose Stitch Crochet Dishcloth
Granny Stripe Crochet Dishcloth
Simple Crochet Scrubby Dishcloth
More Crochet Patterns
More Crochet Resources